« 2023/12 »

| 일 | 월 | 화 | 수 | 목 | 금 | 토 |
| --- | --- | --- | --- | --- | --- | --- |
| | | | | | 1 | 2 |
| 3 | 4 | 5 | 6 | 7 | 8 | 9 |
| 10 | 11 | 12 | 13 | 14 | 15 | 16 |
| 17 | 18 | 19 | 20 | 21 | 22 | 23 |
| 24 | 25 | 26 | 27 | 28 | 29 | 30 |
| 31 | | | | | | |
관리 메뉴
추억 백업중 본문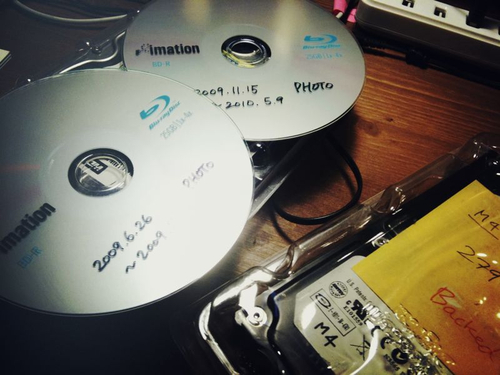 10여년동안 찍은 사진과영상을 한방에 날릴뻔한 사건을 겪고 맘먹고 백업중.
I'm backing up all my photos and videos to Blu-rays to avoid losing all my memories at once since the datas are almost gone from my hdd couple of days ago. Ughh.. LG NAS. I spent a lot of times to recover datas on the hdd but I failed. Fortunately I had backed up the datas to another hdd last year. Thx God!
Alternative way I used for a long time to keep my media more safely is using Flickr and Vimeo. I love to use it as often as possible because I can download my fotos and videos from them as an original. That is main reason why I pay for them.
I feel some nice solution/tool/space/media which is much more safe and easy to manage is needed for most people. This is one of my personal wishes and goals.
Comments